In the building maintenance industry and hvac work, it is essential to have the right tools for getting the job done. One of these crucial tools is a service body for work vehicles. Service bodies hold and help organize all the items you need for a day on the work site. They attach directly to the bed of trucks, making them more functional and efficient, similar to a commercial van.
Find out about maintenance upfit solutions
This article will cover the many ways that Spacekap service bodies could be of service to you!
Efficiency of Transportation
Service bodies are a great way to improve the efficiency of transporting equipment required for all HVAC workers. Rather than taking the time to sort out all of your important supplies, utilize our methods that are already in place and easy to access!
The Ranger Design shelving systems in a Spacekap body keep all of your tools and materials organized and easy to access. This means that you won't have to waste time searching through your truck for the right tool or material – you'll be able to grab what you need. You also won't need to keep shifting materials between different vehicles, since all of it can be organized in one place. This will allow you to find your equipment and finish your jobs faster and serve customers with ease!
Protection of Equipment
Service bodies for work trucks are not just a convenient way to organize your tools, they also provide crucial protection.
In the unpredictable environment of a job site, it is essential to ensure that your tools are well-protected by a service body. The high-quality materials used to construct Spacekap products will ensure that your equipment is safe from the elements and any potential damage. When paired with a 4×4 full-size pick-up truck, your commercial vehicle and its corresponding service body will be able to withstand rough terrain and long distances.
From weather to terrain to construction sites, your service body can handle any situations that put your equipment at risk.
Customization of your Service Body
Our service bodies are available in different sizes and styles. There are plenty of options to choose from when it comes to picking the right service body for your purposes. Depending on the types of jobs you perform and the size of your team, our customizations can meet your needs!
Here is a quick look at the options we offer:
Compak Service Body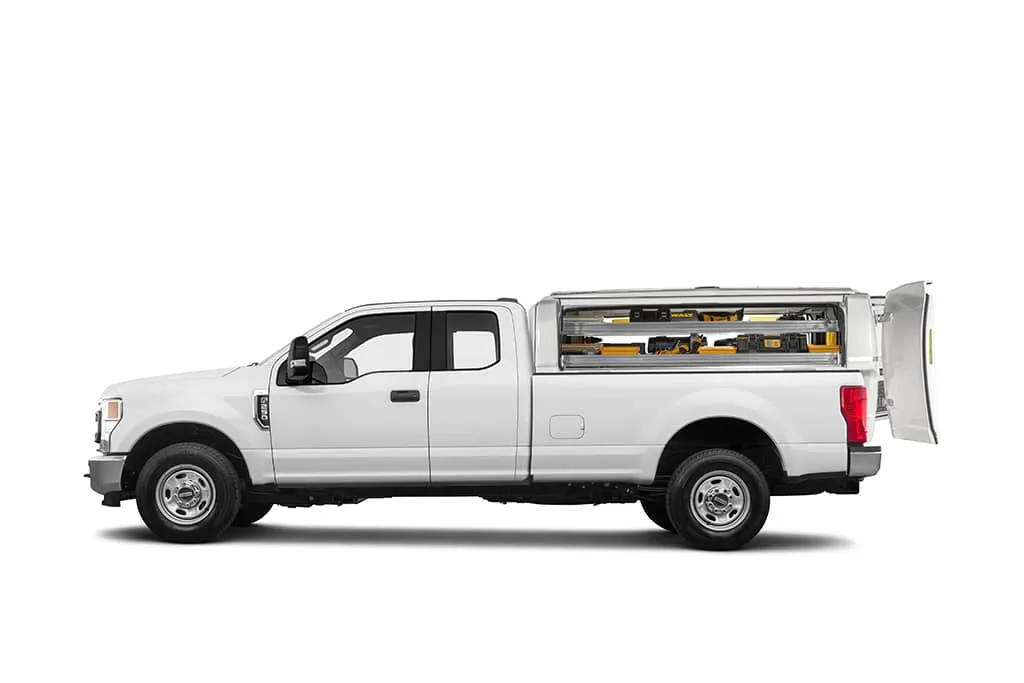 Compak offers a convenient service body that still allows your truck to fit in underground parking and offer a smooth ride, just like work vans!
Wild Service Body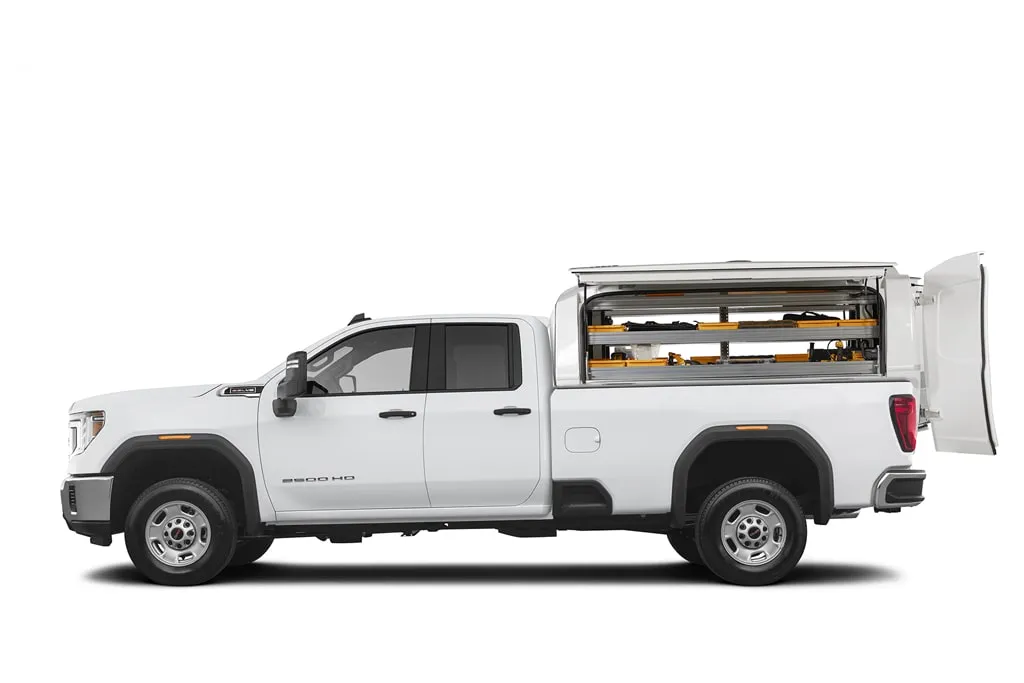 This unique option serves as a cargo van alternative that transforms your truck into a van.
Diablo Service Body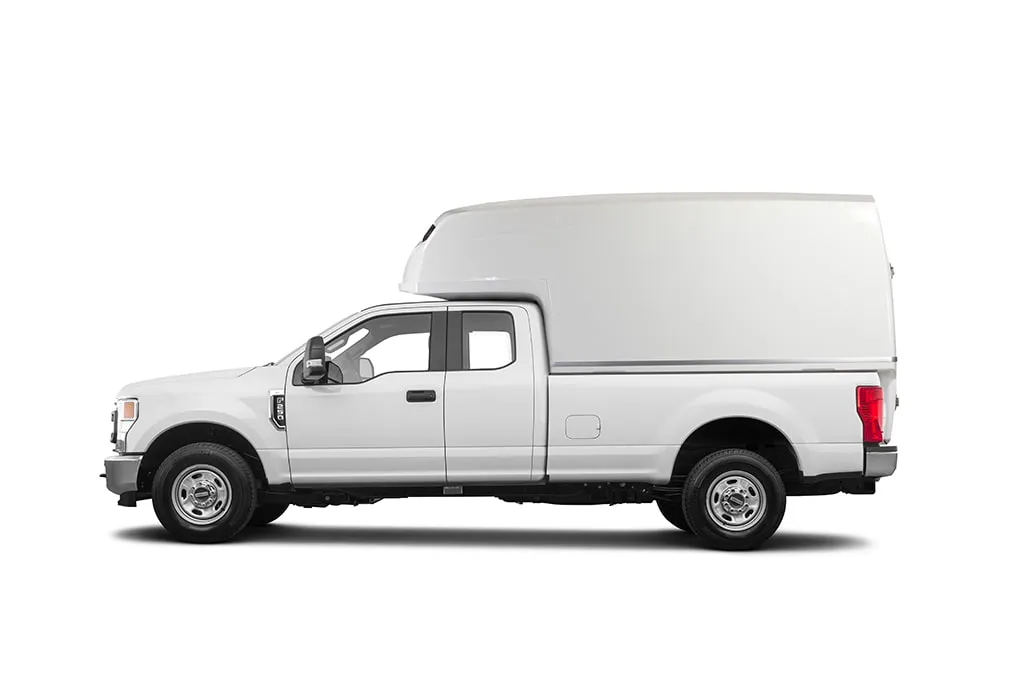 This option is essentially a mobile workstation with a great amount of versatility and space. It provides the shape and spaciousness of a van.
If you'd like to explore the details of what each of these models offer, check out the additional info on our website. From a seamless add-on to a full-on commercial vehicle makeover, there is surely something for you that Spacekap has to offer!
Unique Features and Solutions
Other features from Spacekap can also maximize the efficiency of your work vehicle. One such solution is our partner's ladder rack system. With an easy installation process and multiple options, these ladder systems connect productivity right to your truck.
Along with our other accessories, like our sliding trays or shelving systems, these tools pair seamlessly with the service body to maximize convenience and give you plenty of storage space. All Spacekap products are built to fit and last together.
These cutting edge features put your company ahead of the competition in terms of equipment.
Safety of Workers
Additionally, our workspaces are designed with worker safety in mind. We employ 40/60 rear doors that encourage entrance through the curbside door.
We know that for many companies, the safety of employees is a #1 priority. Our products are created to support this mission while still providing innovation.
To see more photos of our products in action and in use within the community, visit and follow our Instagram.
High Quality Workspace
Built to last 15 to 20 years, our products offer durability for any job. Made with materials such as fiberglass, stainless steel, and aluminum, our designs are high quality and made to last. Our fiberglass service bodies are lightweight and rustproof.
The aerodynamic but strong design maximizes efficiency while ensuring reliability in whatever conditions needed to get the job done.
Service Bodies, at your service!
Every HVAC or building maintenance work vehicle needs the convenience and protection of a high quality service body. Spacekap products offer a benefit to anyone in the building, maintenance, and HVAC field who hopes to increase their productivity.
Ready to try it out?
Whether you work in air conditioning or construction, our products will work for your commercial needs! For more information about the wide variety of options that Spacekap offers to satisfy this need, check out our website. The unique features of each design, and information on which might fit bet for your company's goals can be found on the site. These maintenance upfit solutions will be a valuable investment that your business is ready for!
Frequently Asked Questions 
Can I Order a Customized Interior Design, or Am I Limited to QPS? 
Most of our customers opt for our Spacekap Quick Ship Packages (QSPs) due to their fast lead time and overall value. However, we do offer customization. If interested, please phone us at 1-800-363-0655 for more information (i.e., estimated time frame, budget, etc.).
Can the Spacekap Be Painted to Match My Electricians Truck? 
Yes, the Spacekap can be painted, but we do not currently offer this option. Please check with your local garage and paint shop. We also recommand to wrap your unit locally your enable the full marketing potentiel of your Spacekap with your logo and color on it.
How Much Weight Can Be Put In the Deck/Overhang of a Diablo? 
The deck is reinforced to support up to 250 lb. A higher capacity deck/overhang is optional. Please contact SPACEKAP for more information.
Can I Leave My Tools and Equipment inside the Spacekap When Removing It? 
Yes, with the use of our lifting bars, you can leave up to 1,000 lb of equipment inside. However, we suggest securing the Spacekap onto a solid surface to prevent injury.
How Long Does It Take To Remove My Spacekap from My Truck? 
Using a forklift takes only 5 minutes to remove your Spacekap from your truck bed.
Can the Spacekap Fit Any Truck Model? 
The Spacekap was designed in 1992 to fit universally on all work vehicles, work trucks, and full-size pickup trucks with either a 6.5′ or 8′ bed ( Ford F-Series, GMC Sierra, Chevrolet Silverado, Dodge Ram, Toyota Tundra 2007+)