One of the most critical questions for a business is what vehicle you will need to transport your tools and equipment. This blog post will discuss the differences between service bodies and service vans to help you decide which one is best for you.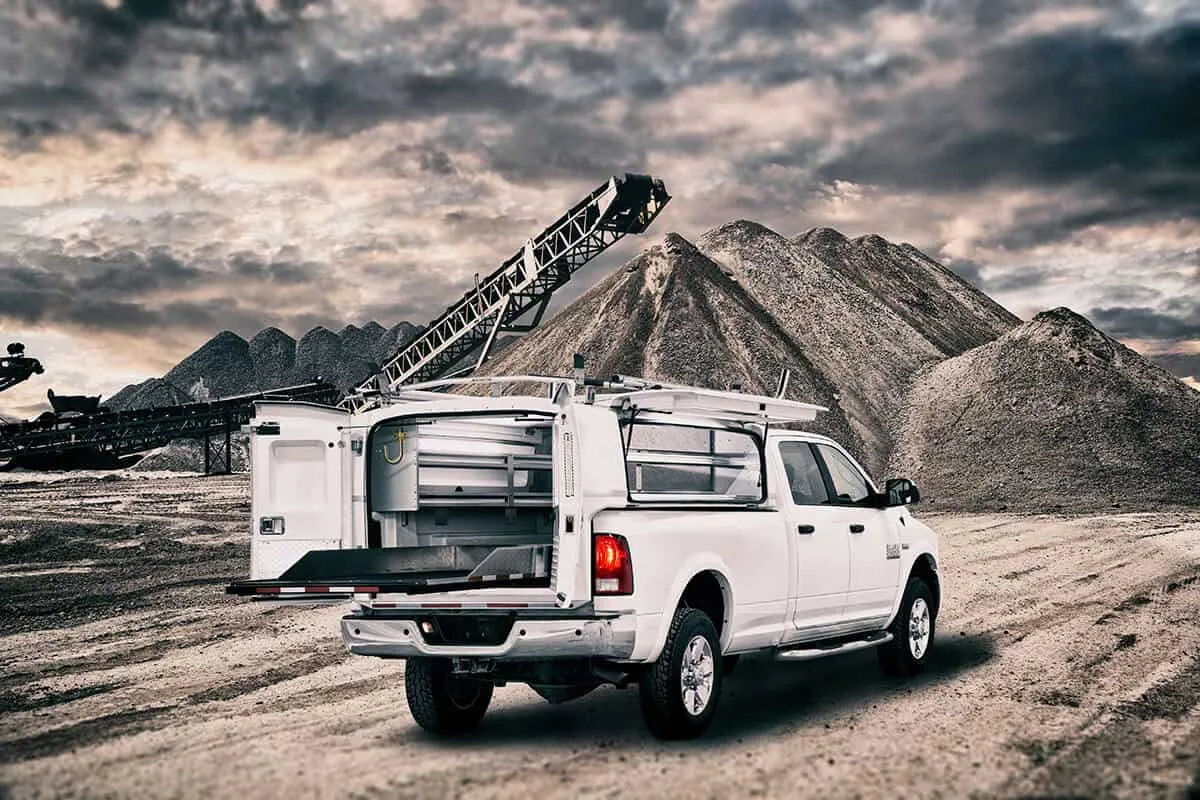 What is the difference between service bodies & service vans
A service body and a service/cargo van are used to transport equipment and tools, but there are some critical differences between the two.
Cargo/Utility Van
A service utility van is designed with a large cargo area in the back that can be used to store tools and equipment.
Service utility vans are better suited for businesses that only need to transport light tools and equipment due to their door height and payload capacity.
Service Bodies
On the other hand, a service body is a custom-built installation for a pickup/work truck. It includes compartments and shelves specifically designed to hold tools and equipment.
The main advantage of a service body is that it offers more storage space than a service utility van. This makes it ideal for businesses that need to transport many tools and equipment to a job site or office.
Questions You Should Consider Asking Yourself
When it is the right time to choose vehicles for your business, there are some questions you should ask yourself:
What's Your Budget?
The pricing of a service/cargo van versus a service body can be significant. Service bodies are often more expensive than cargo vans but offer many benefits worth the investment.
When considering a service body vs. a service van, it is vital to evaluate the Total Cost of Ownership: fuel consumption, repairs, downtime so on and so forth. Because a service body sit on a pickup truck it is more robust and require less repairs overtime. It is built to support load and different roads. Service van suspension is usually more solicitated and built for paved roads: overtime you will probably save a bit on fuel but repairs cost will ruined your ROI.
Spacekap's service bodies have a great ROI. They are made of high-quality materials with high durability. They also offer a lot of customization options for pickup trucks. This flexibility and quality make them an excellent value for the money, and their low cost of ownership makes them an even better investment.
Are You Frequently Accompanied by People?
Service vans are great for transporting people. They have plenty of interior space to seat passengers comfortably, and many even come with a rear bench that can accommodate three or more people.
On the other hand, a service truck body is designed for carrying cargo like boxes and ladders. While they offer limited seating space, it is typically not enough to transport passengers comfortably.
What Type of Equipment Do You Carry Around with You?
Service bodies are designed to make loading in heavier and longer equipment easier. The extra-wide door openings or open bed options allow you to quickly maneuver whatever you need to bring inside.
While you can load these types of equipment in a service van, it is more challenging to accomplish by comparison.
What Industry Are You Working In?
There are a few key industries that are best suited for service bodies.
The first is the construction industry. A service body provides pickup trucks with a lot of extra space to store equipment and materials, which is perfect for contractors who need to keep their tools and supplies protected from the elements or theft.
Service bodies are also well-suited for the food industry. A service body can come equipped with a refrigeration unit, which is necessary for transporting food products.
Service vans are an excellent choice for companies in construction, plumbing, and electrical work. They offer more space than a service body and are also more affordable.Learn more about the trades and fields that benefit from our Spacekap service bodies.
Do you intend to advertise your vehicle?
Service vans and service bodies offer a great opportunity to advertise your business. The bigger the vehicle, the more space you have for promoting your company name, logo, and contact information.
Conclusion, which Option is best for you?
Service vans and service bodies offer a variety of benefits for businesses of all types.
Service bodies are designed for carrying cargo and offer extra space for loading heavier and longer equipment like steel or aluminum materials. They are also well-suited for the construction, food, and transportation industries.
Advertising space is also available on service vans and service bodies, making them a great way to promote your business. Ultimately, the best option for you will depend on your specific needs at the moment.
Spacekap service body types are a great alternative to service/cargo vans. If you are interested in learning more, you can always search our website page or request to talk to an expert.